Travelcard analysis system
Movia, the regional transit authority for the Greater Copenhagen area, wanted to turn travelcard data and passenger counts into a complete picture of trip patterns in the public transport system.
With simulation modules Rapidis has developed a system that combines travelcard data and counts with data from the National Transportation Model. The result is is unique, complete and very detailed overview of all trips in the Movia area.
This system, called the "Travel Card Analysis System" is now a standard, commercial off-the-shelf, system organized in modules and based on Rapidis Transit Analyst and Esri ArcGIS.
The Travel Card Analysis System – more details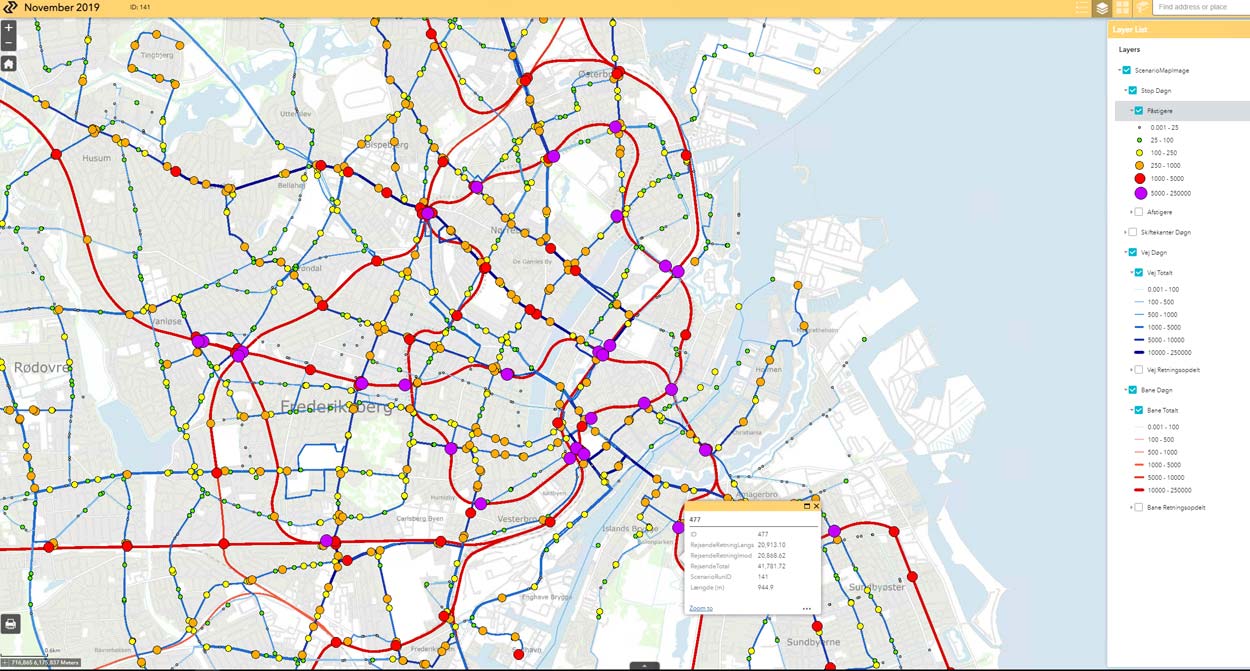 An average week-day is calculated and analyzed every month. Basic results includes a trip-pattern defined as the number of trips from stop-to-stop per hour. The more detailed results includes:
Every trip described in every detail
Summarized to all boardings/disembarkments and trip using public transportation
Shift patterns for all major stations and stops
Catchment areas for all bus lines
The system has been expanded with a module allowing the planners to calculate effects and consequences of proposed changes.
Recently a web-based user interface has been introduced. This allows for a new group of employees, without GIS skills, to perform and visualize even advanced analysis.
Potential travel demand
Rapidis has carried out an analysis for DSB Commercial, the marketing department of the Danish National Railways. The focus of the analysis was the identification of untapped potential travel demand in the main corridors of the rail network.
GIS interface for Online Journey Planner
Working as consultant through Informi GIS Rapidis supplied a consultant, who has implemented an export module for linking spatial databases to the GIS-interface and timetable database for the Travel Planner Internet web-site (www.rejseplanen.dk).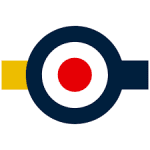 DOT – Replacement Transportation
DOT represents all transit authorities in Copenhagen capital area; that is Movia, DSB (National Rail of Denmark) and the Metro.
Rapidis has DOT with the project "Joint Planning of Replacement Transportation"
When doing maintenance on the railway tracks, DSB offers replacement busses in order to minimize passenger inconvenience. With this project DSB and DOT aim to analyze how replacement busses best can be used in combination with other public transportation modes like Movia busses and the Metro – to meet passengers need for transportation.
The DBS objective is to provide alternative means of transportation so that passengers will experience as little inconvenience as possible while some train-lines are cancelled due to track maintenance.
The joint planning should be regarded a better alternative to the former idea of replacing cancelled train-lines with replacement busses in a one-to-one ratio. The joint planning should involve both DSB, Movia and the Metro who can all be part of the best alternative for the passengers to minimize their inconvenience.
Better utilization of existing public transportation networks
More public transportation for the same budget
Higher level of coordination between the transportation authorities
Data driven approach to route choice modelling
Rapidis have used the Movia Travelcard Analysis system to analyze passengers total trip (need for transportation from start to finish) and then introduce scenarios for track maintenance, insertion of replacement busses and perhaps a higher frequency for selected Movia scheduled busses.
Next step would be to analyze consequences at different scenarios – for affected passengers who we assume have unchanged need for transportation.
Finally we can compare consequences from the various scenarios and determine which scenario that will minimize passenger inconvenience.
US Urban Transit System
Brookings Institution – Analysis of US Urban Transit System.
The Brookings Institution of Washington DC, is using Traffic Analyst to carry out detailed analyses on the quality and efficiency of the transit systems of more than 100 of the largest cities in the US.
Rapidis has developed a module that automates import of transit data in the Google Transit Feed Specification format to Traffic Analyst, in order to facilitate the project. The results of the project can be found here.
OD-Matrix DSB
DSB needs to provide accurate statements of journeys made with DSB and which describe each journey from the first boarding at DSB and to the last disembarkment at DSB.
These statements are used DSB to follow up on contracts with the Ministry of Transporation.
The OD-Matrix is calculated using a Transit Analyst for ArcGIS module that uses a Multi-Path OD-Matrix Estimation (MPME) to join model data with passenger counts, travelcard data and journey plans. The result is the best possible total and detailed picture of all trips is created.
Traffic Model Calculations
Forecasting the effects of the temporary closing of urban rail-lines due to maintenance work
Rapidis has assisted DSB S-Tog in evaluating and selecting suitable bus services as a substitute for railway links closed for maintenance. A number of proposed substitute bus services were evaluated using detailed traffic model calculations. Based on the model forecasts the least inconvenient substitute bus services were selected and further detailed forecasts were produced in order to assess the required capacity, i.e. the number of busses and departures necessary at different times of the day.
Updating and Expanding the Automatic Passenger Counting System
DSB S-Tog has recently expanded rail-services throughout the night hours on some days of the weeks. As part of this service expansion, Rapidis has assisted DSB S-Tog (Planning and Traffic department) in updating and expanding the Automatic Passenger counting System (APS). APS is used to produce detailed data describing daily travel patterns as well as overall amounts of travelers. New functionality was added to ensure that night time traffic was handled correctly.
DSB S-Tog Department of Performance Monitoring
Updating Model for Simulation of Passenger Delays
In an earlier project Rapidis and DTU Transport (Danish Technical University)designed and implemented a simulation model that has been used by DSB S-Tog to analyze how train delays and cancellations affect travelers. Rapidis has now helped DSB S-Tog to update the system, expanding functionality, moving to a new data model and adding a more accessible GIS-based user-interface.
Automatic Estimation of Passenger Travel Patterns
Rapidis partnered with Center for Traffic and Transport – Technical University of Denmark (now DTU Transport), to implement a system, which is used to produce detailed daily data describing S-Tog passengers travel patterns, based on data from counting and weighing systems installed in the trains. The system combines a detailed public transport route choice model with an advanced trip matrix estimation method.
Modeling Passenger Delays using a timetable-based assignment model
Rapidis, partnering with Center for Traffic and Transport – Technical University of Denmark (now DTU Transport), has developed a ground-breaking modeling system that is used to model the effects of train delays on the route choices of travelers using the Copenhagen Urban Rail (S-Tog). The system is also used to calculate the actual delays of passengers, that is, whether they actually arrived later than planned. The system is based on the Traffic Analyst Public Transport Assignment module.